Saturday, March 28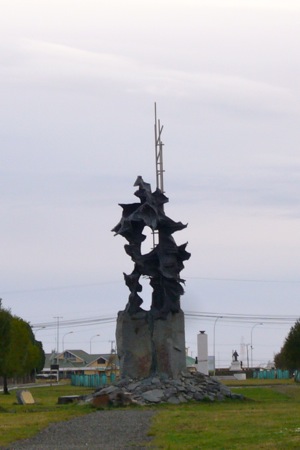 We woke up earlier than usual for us as we wanted to be early to arrive for our 9 am ferry to Porvenir. The owner of our hostel was up and engaged us in cheerful conversation. The breakfast was better than usual, having a good selection of juices and cereals in addition to the usual bread. We had packed the bikes before eating so once we were done we were off to the gas station. On the way out, we passed the sculpture Monument to the Wind.
We filled up and headed to the ferry. As we had a reservation already, it was easy to get our tickets and get on board. After we put the bikes on the centerstands, they put a wide cargo strap across the seats to secure them to the deck. We'd never had this precaution taken on a ferry before, so we were a little alarmed about the voyage ahead, but they assured us that the sea was calm today.
We settled in on the upper deck of the passenger cabin. It was very nicely set up, like a luxury train with a table between opposing seats. Large flat screen TVs were located throughout the cabin. The choice of programming for the 140 minute voyage was strange. The first shows were children's cartoons. The middle of the voyage was an ultra violent movie about assassins, which was followed by a pre teen sitcom. Strange mix. We passed the time writing.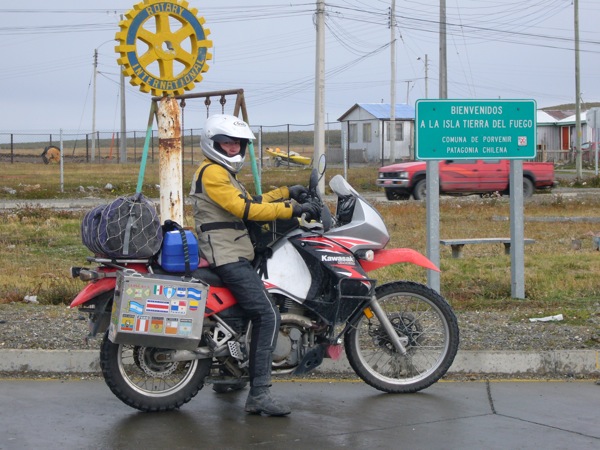 Once we were off the boat, we headed south and road along Y-71. This route had been recommended to us as scenic, rolling along the coast of the Straight of Magellan with a favorable tailwind. The ride was more ripio, but reasonable enough. We saw a few dolphins at one point, but the ride was mostly uneventful. The road was very hard packed and we were able to ride at 50+ mph.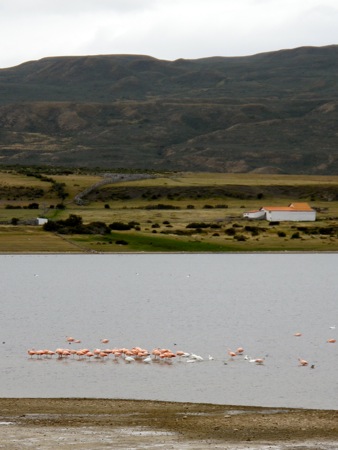 We arrived at San Sebastian, Chile, and checked out of Chile. After a few miles, we reached San Sebastian, Argentina and checked in with the country's slowest aduana agent. We hadn't been sure how fast or slow the day's ride would progress, but it was only 2 pm so it was clear we would be in Ushuaia tonight. This was really hard to imagine after all these miles.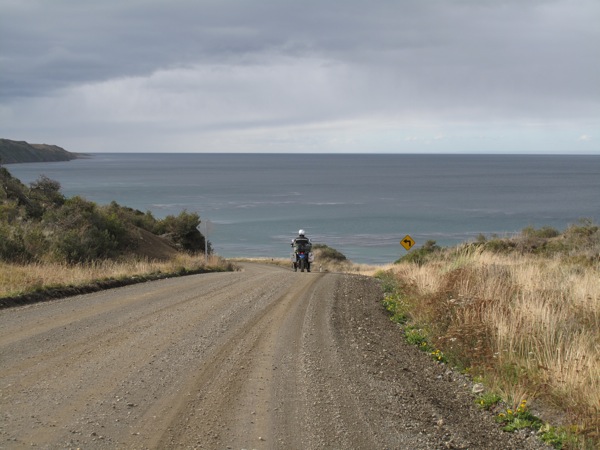 The ride south along the coast was well paved, and we were lucky, no serious wind. The road, Ruta 3, hugged the coastline. The wind created a strange surf, very short waves packed tightly together and moving slowly into shore. The landscape was flat and open.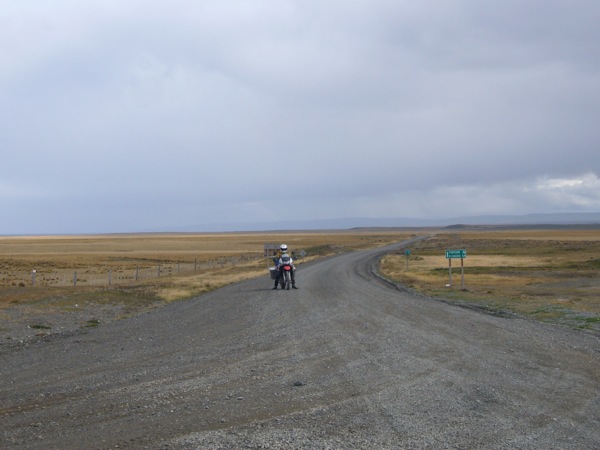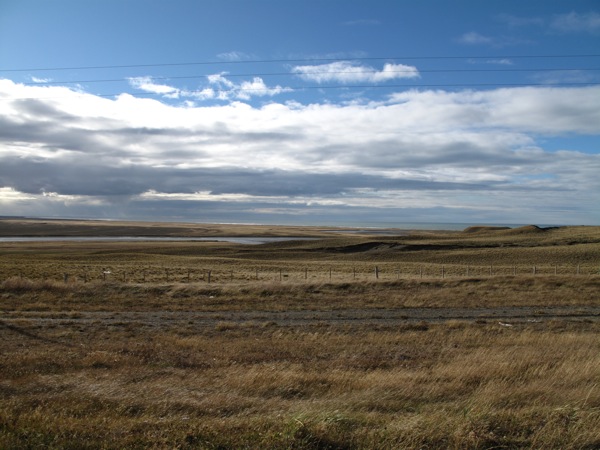 The road finally turned inland, and the landscape changed. We rode through patches of forest consisting of short, gnarly twisted trees. They looked ancient for their size, and each branch was dripping with pale green moss. It was clear we were entering a new climate.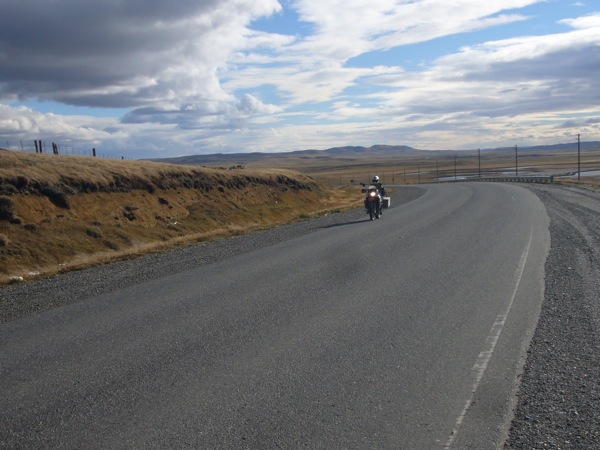 We reached Lago Fagnano, which gleamed in the late afternoon sun. The forests were denser along its shore, and unless its their natural color, the leaves were beginning to turn red. I know that's not why it is called Tierra del Fuego, but the hints of red among the forest seemed very appropriate. The mountains loomed to the south of the lake and had a light dusting of snow.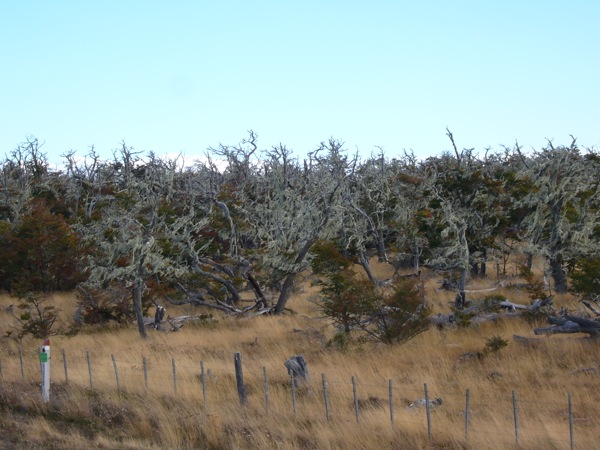 The mountain pass was more green and red forest and passed quickly. Before we knew it, we had reached Ushuaia. All during the last few hours I had been trying to psyche myself up for this momentous to us occasion, but it was hard to get really excited. I think we were too tired and it just didn't seem real, that we were really here. We grew a little more excited as we posed for pictures with the Welcome to Ushuaia sign.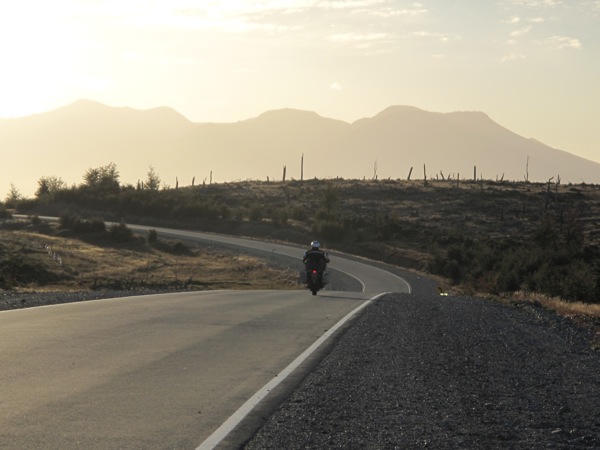 As we rode into town to find a hotel, we came across a rider on a Kawasaki Tengai. He was a local and led us around town until we found a satisfactory and affordable hostel. People who ride motorcycles are just the coolest people. We exchanged contact information and he was off. We settled in, still a bit disbelieving we were really here.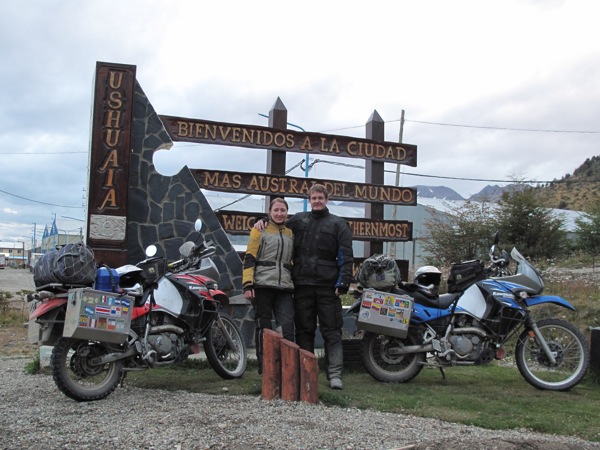 As we checked email, we saw our friend Ross who we had first met in Lake Atitlan, Guatemala, had arrived in town two days prior. We met up for dinner in town and celebrated with a few bottles of wine. We were really in Ushuaia!!