Sunday, March 1
Our room last night was surprisingly pleasant and comfortable, and I so wished we could sleep in, but we planned on visiting the second park in the area in the morning and then needed to make up some distance going south, so sleeping in wasn't an option.
For breakfast we went back to the comida place and were served some eggs and freshly baked rolls by the señora from last night.
The Parque Nacional Talampaya was 70 km north from Los Baldecitos and we reached it within half an hour, just in time for the temperature to rise up to high 90's. At the entrance we found out that we could not ride our bikes in the park and had to take an organized tour in the mini bus. It was a bummer, but I was keen on seeing the park, so we paid a hefty fee of $15 per person, left our bags at the bar and went ahead with the tour.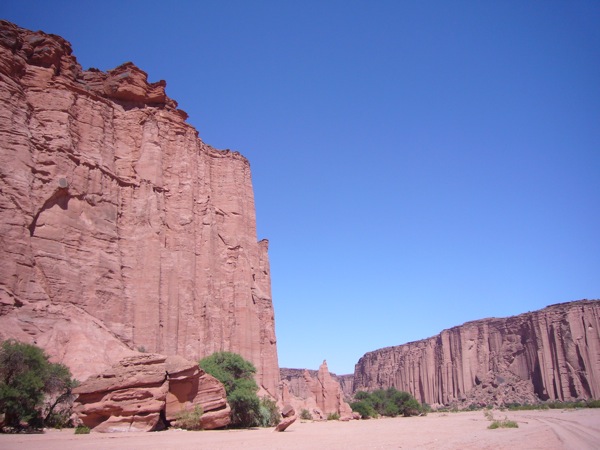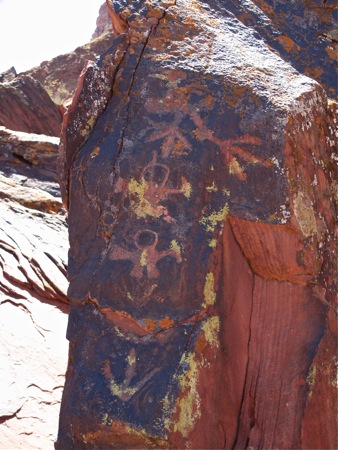 The park's main features are a wide-bottomed canyon with 180-meter high rust-colored sandstone cliffs and curious rock formations that look like carved out columns or parts of a gothic cathedral. Additionally, the park features a number of rocks with pre-Columbian petroglyphs, and is home to bird species such as condors and eagles.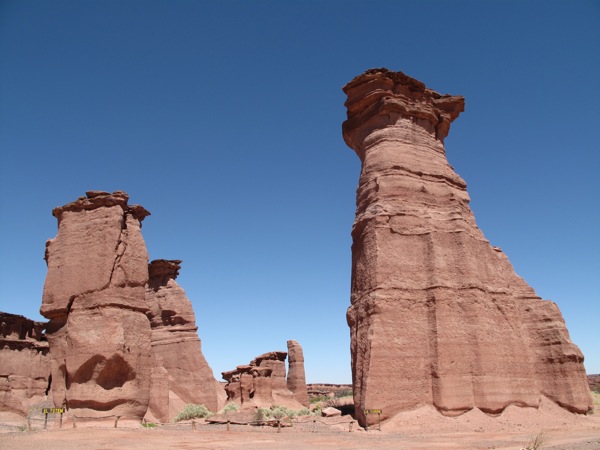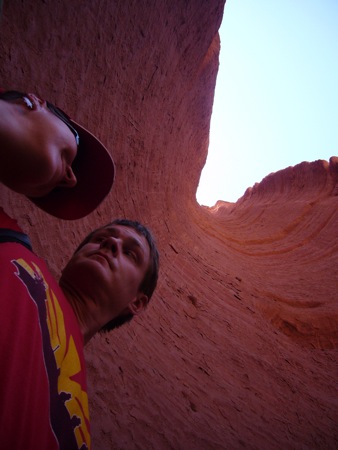 The tour lasted about 2.5 hours and was quite boring. As always, it was in Spanish and included five stops at places of interest. The stops lasted way too long, it was way too hot outside and the constant chatter of French tourist girls in the mini van was driving us a both crazy. On top of that, Matt's back was still bothering him for the seventh day in a row, so overall it was a bit of struggle to last through the tour.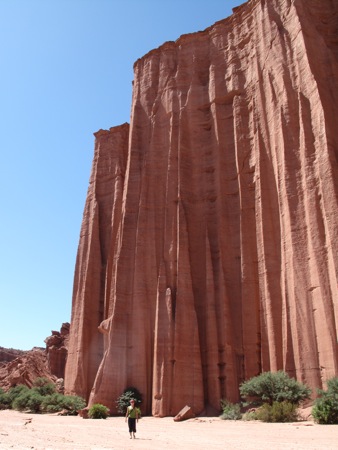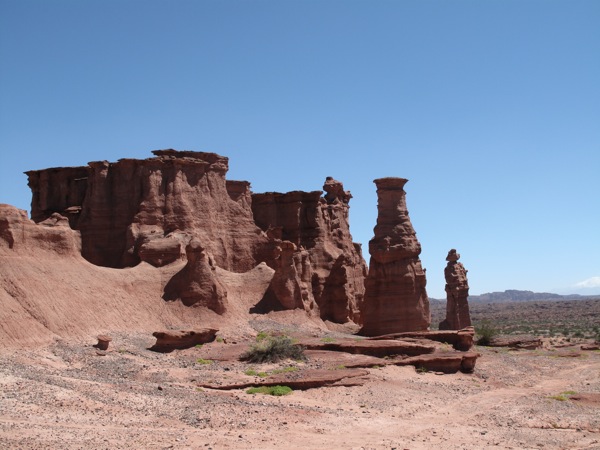 The scenery however was indeed impressive, and reminded me a lot of Bryce Canyon in Utah. If I had to choose between the two parks, I would recommend Ischiguakasto over Talampaya. The fact that you are confined to the mini van under the strict supervision of the guide in Taampaya takes all the fun out of the nature experience.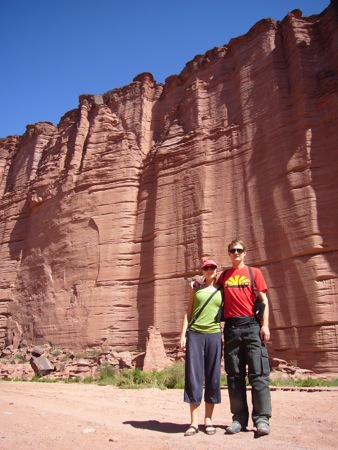 After the park we headed up north through Villa Union which seemed like a smarter and shorter route to get us to the western parts of La Rioja and San Juan regions. After a quick fill up on gas in Villa Union the road headed south, and for the next two hours it was a grueling grind on a straight (but nicely paved) road through some dull and boring desert scenery with a stretch of mountains on both sides. I struggled a bit in the heat, but the last stretch of Routa 40 just before San Jose de Jachal climbed many meters up into the mountains and opened up into lovely valley with lush farmland.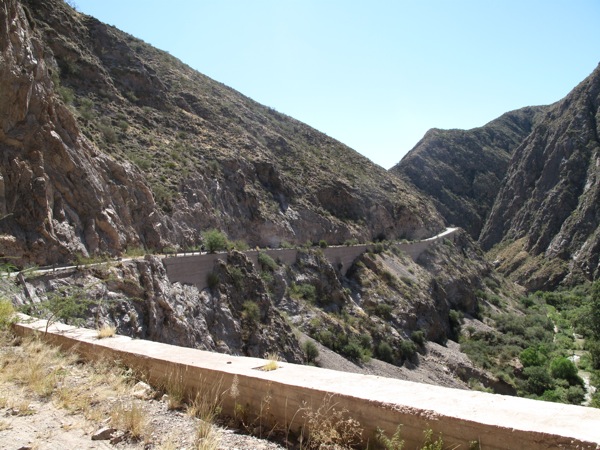 It was 4:30 pm, and we decided to stop for the night in the sleepy town of Jachal to get some rest and catch up on the blog. Ever since Bolivia, we have not gotten a proper rest. Even though we spent two days in Salta we didn't feel like we were able to relax and recharge. It doesn't look like we would be able to do that until Santiago, where we are meeting Matt's mom next week and plan on spending a week off the bikes.
We tried to get an early dinner, but as we have discovered, in Argentina the restaurants don't open for dinner until 8 pm. On the second try and much later than we desired we got some dinner on the main square to the sounds of a Sunday fiesta mixed with the noise of a bicycle charity event that attracted hundreds of locals and professional out of town bicyclists on $4,000 bikes.
When we got back from dinner it was already 9:30 pm and yet again the evening seemed to have evaporated without proper rest or relaxation.