Saturday, May 16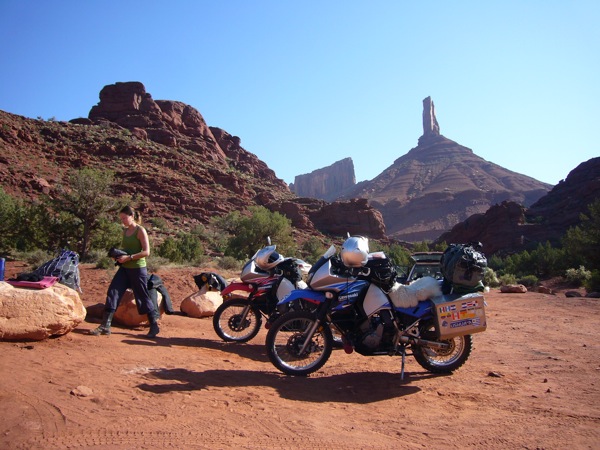 It felt nice waking up in the middle of the red desert surrounded by cool rock formations. Matt said that all night he had been listening to the wild sounds of the desert. I wear ear plugs at night to escape Matt's snoring, so missed all the spooky night desert chatter. Maybe for the better.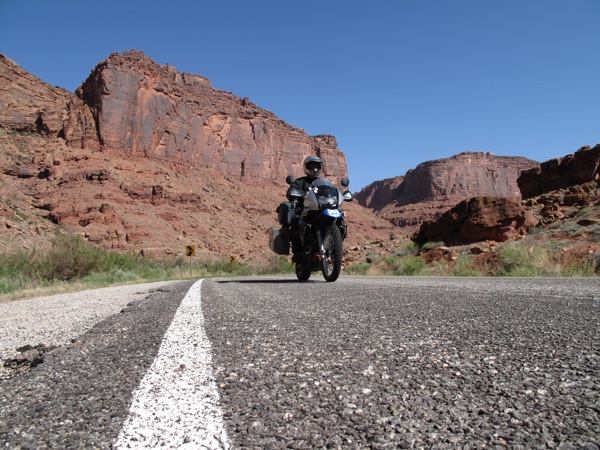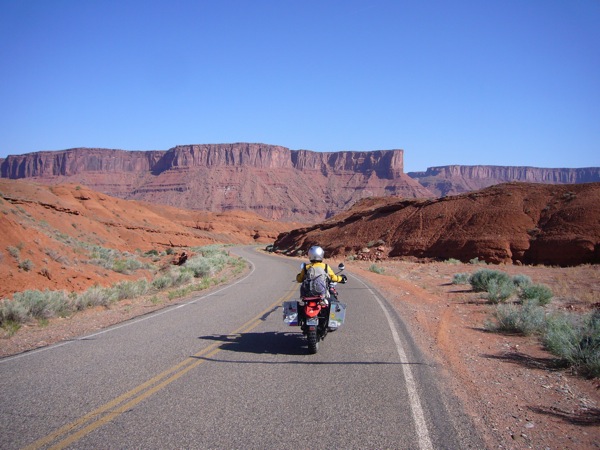 We packed up the camp and drove to the Arches National Park. It was my first time there. The park preserves over 2500 natural arches of all shapes and sizes as well as a variety of balanced rocks, fins and pinnacles that are millions of years old.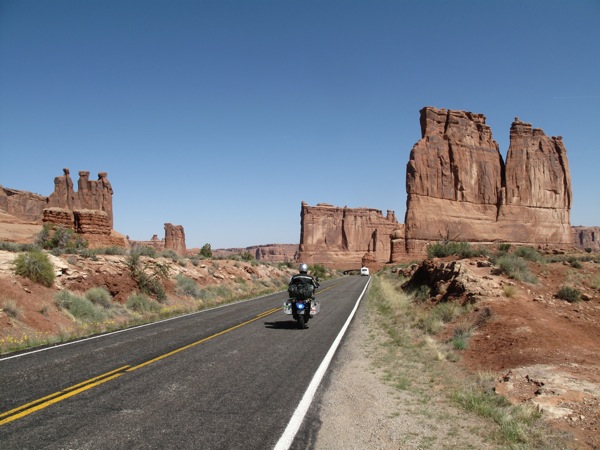 The park covers 76,000 acres and contains striking contrasts of red rock, blue skies, and green vegetation.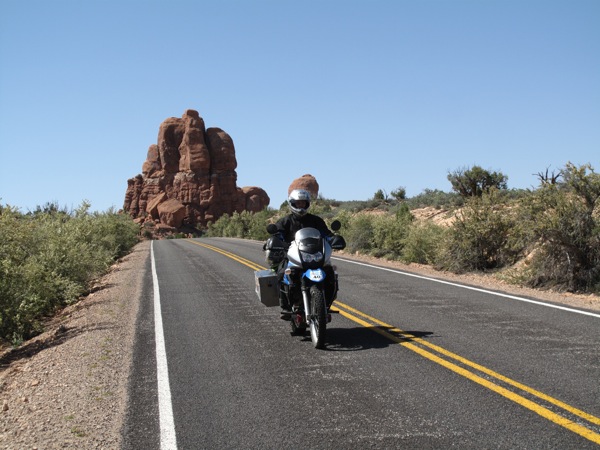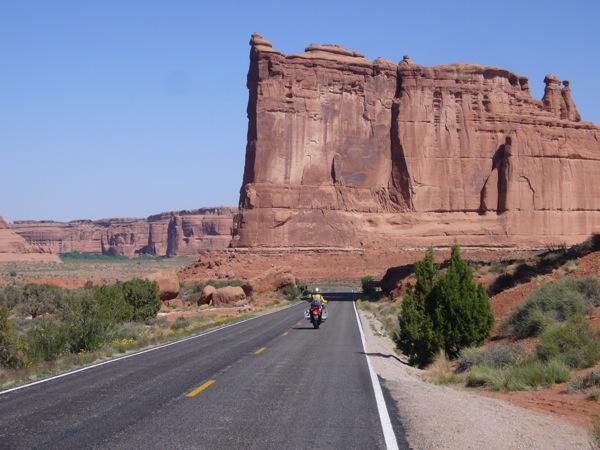 We made a short hike to see the delicate arch from the upper viewpoint which provided spectacular views of the arch and the surrounding rock formations.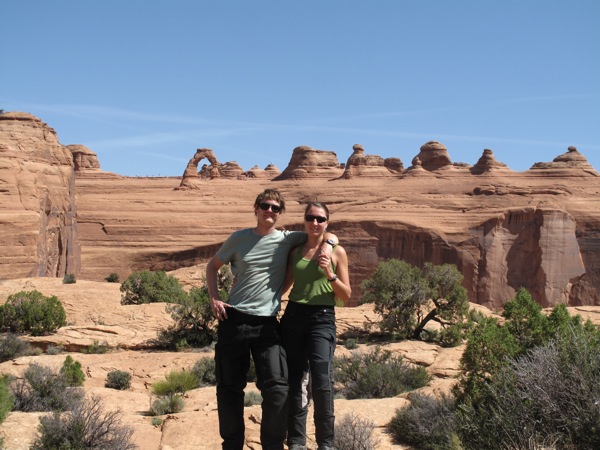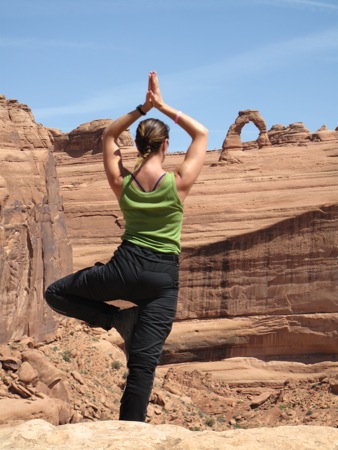 Even the quaintly dressed lovebirds enjoyed the view.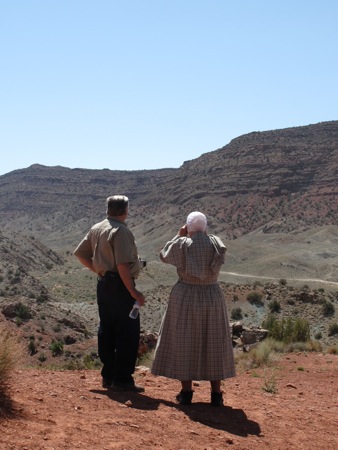 We realized our limitations for hiking the many trails available in the park due to heat and gear constraints, but we managed a couple short walks to the numerous arches.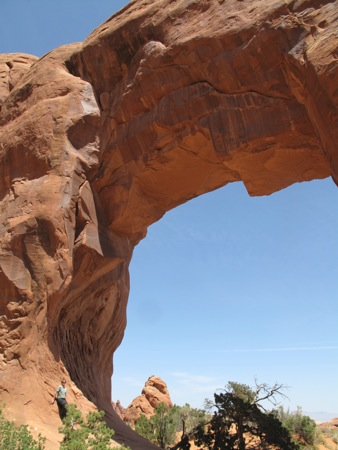 Mainly though I just enjoyed riding down the main park loop in awe of the surroundings. The scenery reminded me of the Parque Provincial Ischigualasto, also known as the Valle de a Luna (Moon Valley) and The Parque Nacional Talampaya that we visited in Northern Argentina. That was a tiny park that had restricted visitor access, in the US we have the whole states of Utah and Colorado that are like national parks. And the roads are nicely paved.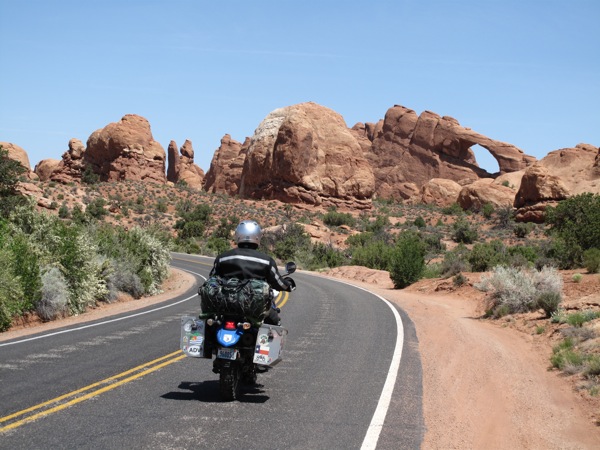 After Arches we drove on highways UT-128, I-70, CO-139, and US- 40 to get to a tiny town of Vernal, UT. CO-139 was surprisingly scenic with a nice climb and good views. Yet again, we were dumbfounded that a Super 8 in a one road town in the middle of the country's boonies would cost $80/night. We tried another motel. The business savvy Chinese owners, who strangely also run a smoke shop out of one of the rooms, offered a good overnight option for $65+tax in the "just remodeled/under new management" motel. Nice find! That would be our stop for the night.