Wednesday, February 4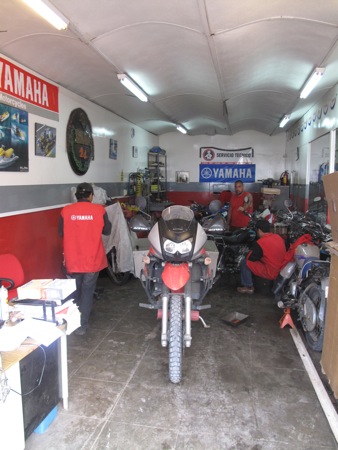 Breakfast wasn't included in this hotel, so we had a quick breakfast next door for $6 total. Peru was much cheaper than Ecuador if you avoided the obvious tourist places. We were on the road by 9, only to go park ourselves back at the Yamaha dealer. I had decided overnight I wanted at least one more quart of oil on hand as the red bike uses great amount of oil on the straight line grinds. Our mechanic friend was there, so he speed off to find us chain lube while we waited. Half an hour later he returned, lube in hand. Score!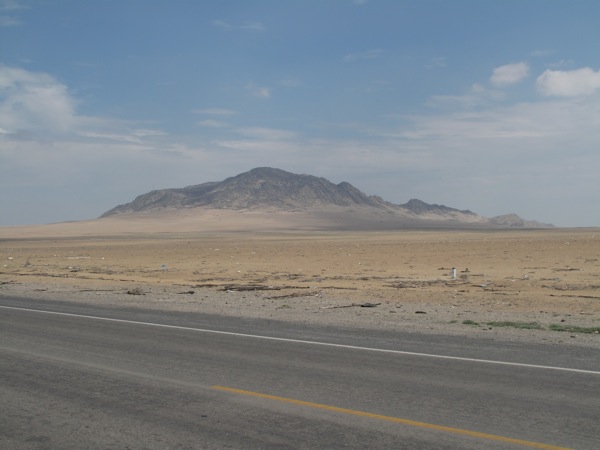 We were heading south by 10, not as early as we would have liked, but early enough. It was more desert landscape. The desert vistas can be very beautiful, but when the road is just a bee line to the horizon, the miles really stretch out. Just south of Chimbote we were appalled at how the desert south of town was used as a garbage dump. What would have been a beautiful landscape was just covered in trash. The poverty of Peru was evident as you could see shacks built amidst the garbage. I couldn't bring myself to stop and take a picture.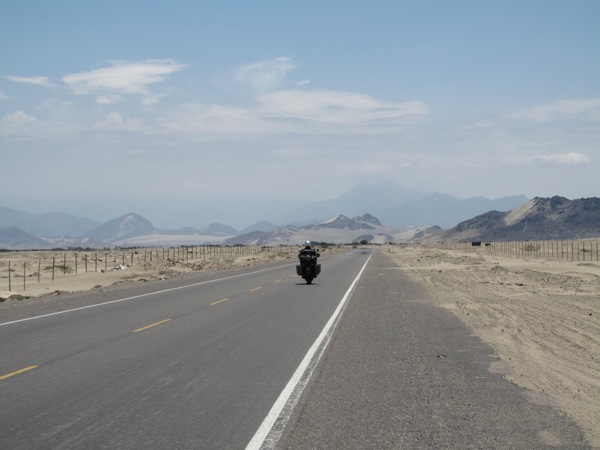 When we reached Trujillo, we stopped at the ruins of Chan Chan. This was a 900 year old city built out of mud. It's a testament to the desert aridity that you can build something this large out of mud and some part of it will still be standing 900 years later. There aren't any guards or fences or seemingly any restrictions on visiting the exterior, and we were able to ride around at will between the buildings.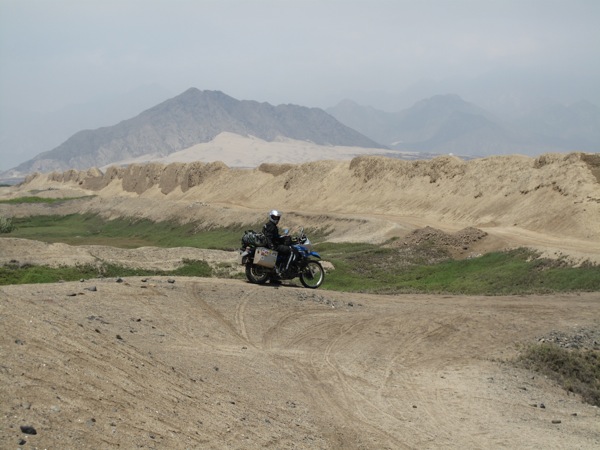 Some of the walls were nearly melted, but the main complex had been rebuilt. We parked to have a drink and take the tour as we were curious what was inside the walls. We ran into a young Canadian couple in the parking lot. They were on a long trip traveling by bus. The man was a fellow KLR rider and it was clear he'd rather be riding than taking the bus.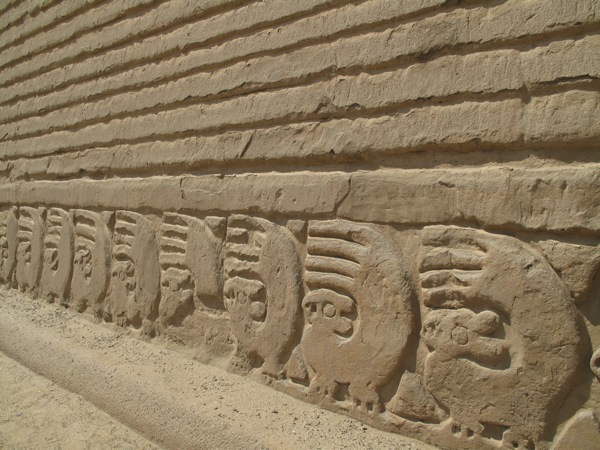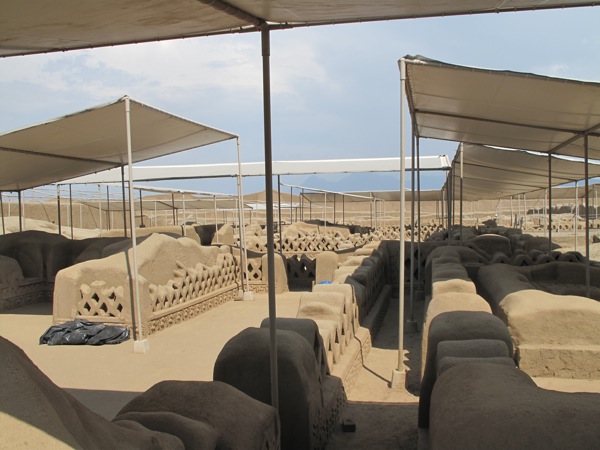 We bought our entrance tickets and hired an English speaking guide. We told our guide we wanted a bit of an abbreviated tour as walking around in the desert sun in riding gear for an hour didn't lend itself to lingering. We learned a bit of the history of the city, which was only 1 km from the ocean. Most of the reliefs on the walls were ocean related, with pelicans, fish, and fishing nets the principle decoration. It was interesting to learn, and again, impressive that something could be built so enduring with a primitive mud concrete.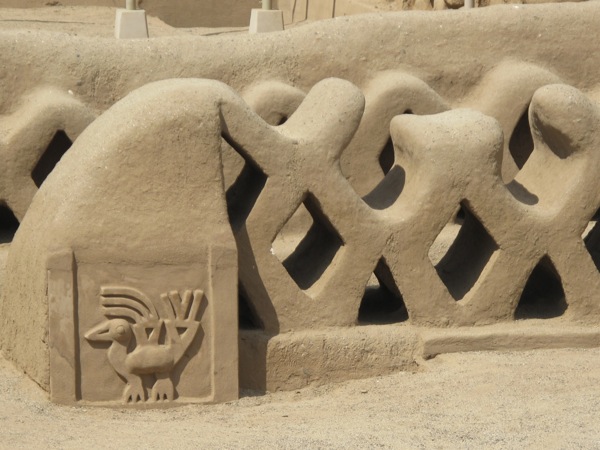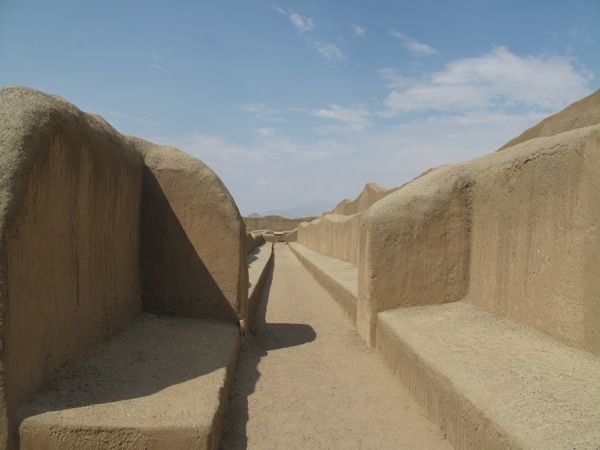 After the tour, it was back on the bike to cool ourselves off in the wind. We made it through Trujillo with only a gas stop, and then it was back to the desert riding. The sand dunes were becoming larger and more striking. The sand blew across the roads in streams, and the bike would leave a wake as it rode through.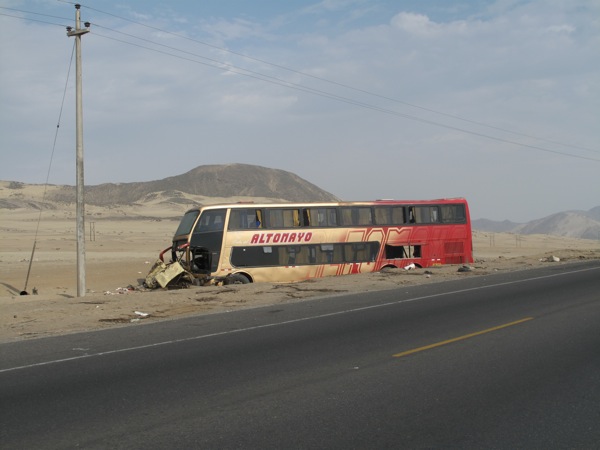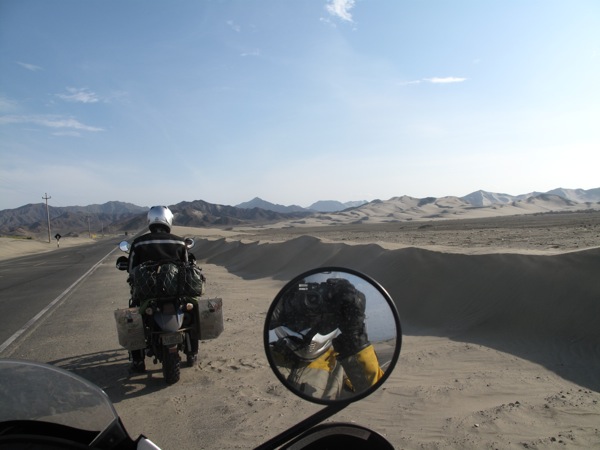 When we arrived in Chimbote, we were given another lesson in the kindness of Peruvians. We had pulled over to see if we had a map of the city when a car stopped in front of us. The driver asked us in passable english if we needed any help, and we told him we were looking for a hotel. He told us where a few were, and gave us directions, but ultimately, with his family in the car, told us to follow him. He led us to a nice hotel and the main plaza. We thanked him and he was off.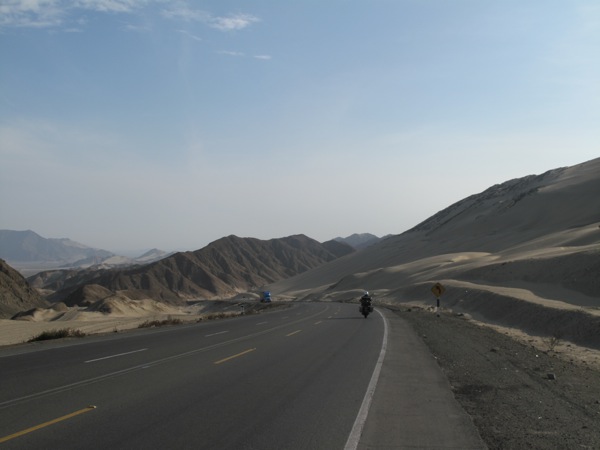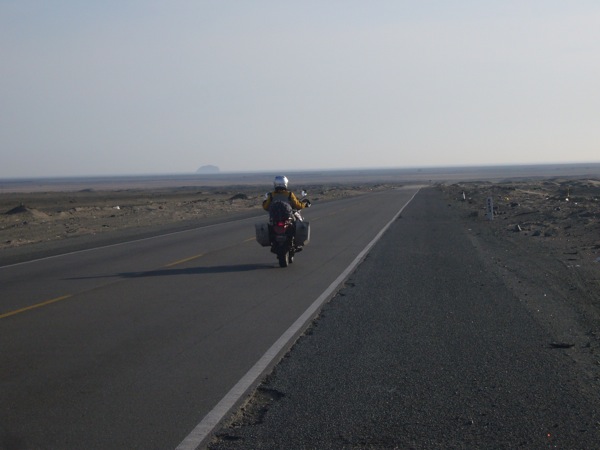 The hotel was more than we wanted to spend, and had no parking. We decided to try the official "tourist" hotel he had mentioned, down on the water. It was even more expensive, so I left Inna with the bikes to admire the ocean while I went on foot to check another hotel we'd seen on the way over. Apparently Chimbote is a hub of the fishing industry as the harbor was filled with hundreds of anchored fishing vessels.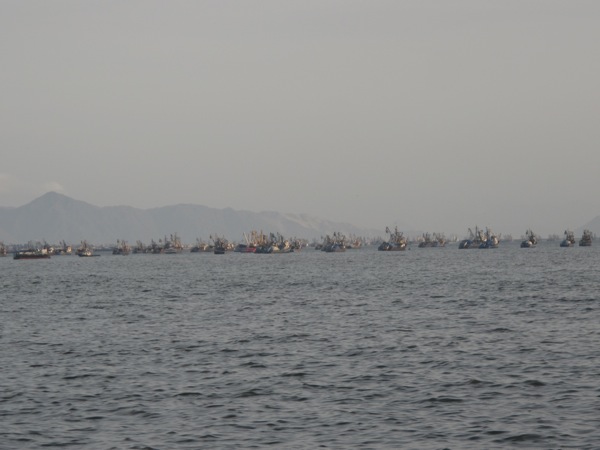 The 3rd hotel was only slightly cheaper, but it seemed nice and had an attached garage. We rode over, parked in the garage, and lugged our bags up a few flights of stairs. We were tired from all of the heat, so we quickly cleaned up and got out to try and get an early dinner. Chimbote was like Chiclayo in that was another crowded, bustling city. Neither of us was in the mood to deal with this, so after some searching around, we settled on a gigantic roasted chicken restaurant close to the hotel. Another easy menu, chicken or chicken junior, 1/4, 1/2, or whole.
After dinner it was back to the room for more writing. We were determined to get caught up and not always feel so behind on writing.
The next morning I did mange to record a traffic scene to capture how noisy the traffic can be. There aren't that many cars, but it's like the drivers are blind like bats and only feel their way via echolocation. Every meter covered requires a small tap of the horn, and they seem to have adapted the car alarm chirping sounds as some kind of ping. It's constant, constant noise.
[qt:/southernexposure/wp-content/uploads/2009/02/mvi_3354.mov 320 240]