Monday, April 20
Adela gave us a ride into downtown this morning. It was our final day in BA, and shopping was at the top of our agenda. Adela dropped us off near her office, and we spent the morning looking for the perfect pair of leather boots for Inna. BA in known for high quality and affordable leather goods. I had already settled on a pair of gaucho boots, and Inna didn't want to leave without finding her special pair. We were amazed at the number of shoe stores in Buenos Aires.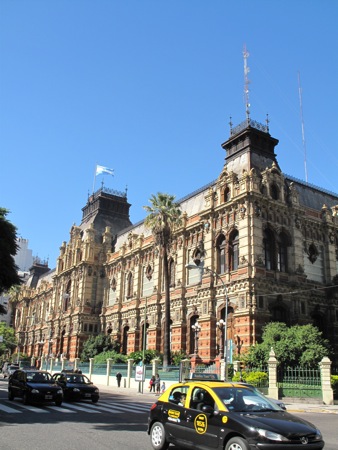 We spent the afternoon shopping and buying gifts for friends and family in addition to some nice bottles of wine for our last evening. We even bought the cheapest duffle bag we could find to lug all of the new extras home in. We met Adela back near her office at the end of the day and met Fernando at the house. Hostal Rojas was expecting another guest this evening, Yoris, a fellow rider from Belgium. Fernando and Adela had also met him on the road and invited him to stay with them when he arrived in Buenos Aires. Those two are just the nicest and most hospitable people!
Yoris arrived shortly after us, rolling in on his BMW 1200. Seeing him arrive dusty and tired from long days of riding gave us a good picture of what we must have looked like pulling in on many occasions. Fernando gave him a cold beer and we chatted about our travels as Yoris unpacked the bike.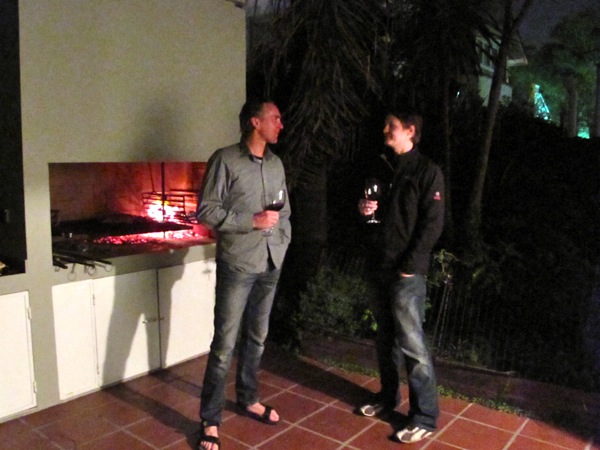 As a farewell for us, and a welcome to Yoris, Fernando and Adela were preparing an asado for dinner. This was just heaven for me as the grilled meat in Argentina is divine. The menu for the evening were strips of pork of a cut whose name I sadly can't remember, chorizo, our new favorite, and cheese grilled in a skillet.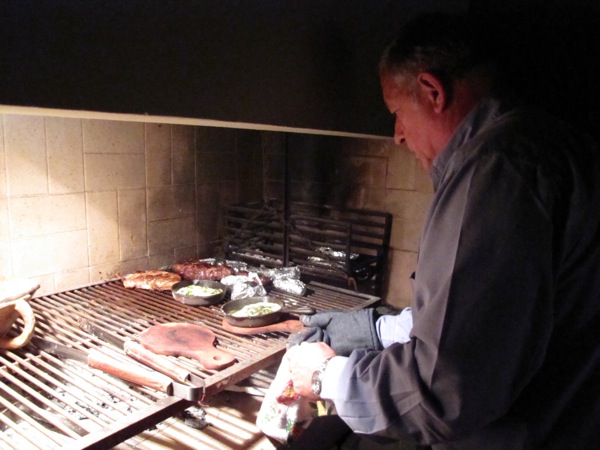 I chatted with Fernando as he prepared the grill, taking as many mental notes as I could. The grills in Argentina are interesting setups. They are housed in a tall brick enclosure with walls on three sides and a chimney out the top. The fire, from a wood and vegetable charcoal, burns in a carrier on the side. and the hot coals fall through to the bottom. The grill is a metal grate suspended by a chain so that it can be raised and lowered over the coals. The meat is slow cooked over the hot coals rather than over an open flame. I am determined to build a grill of this style as soon as I own my own home.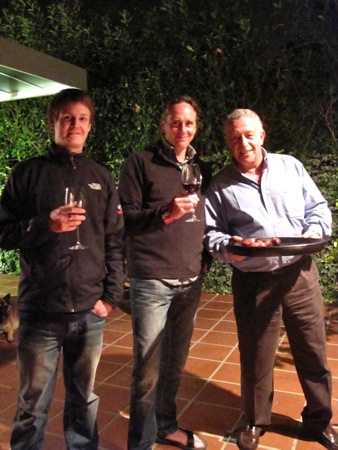 Yoris owns a restaurant in Belgium and had brought some wine from the vineyards he had been visiting in Chile. The bottle of Salentein Pinot Noir 2005 in particular was absolutely outstanding. Inna could not stop raving about it. The asado turned out excellent, as expected, and Inna and I savored every bite as if it would be our last. Conversation was lively as we all traded riding stories and dreams for future trips. Once we had our fill of the asado, we moved onto four flavors of ice cream that had been delivered , including dulce de leche with fresh dulce de leche, dark chocolate, and mousse de limon. Yes, not only do they have the best ice cream in the world in BA, it is home delivered at any time of the day. I need to move here.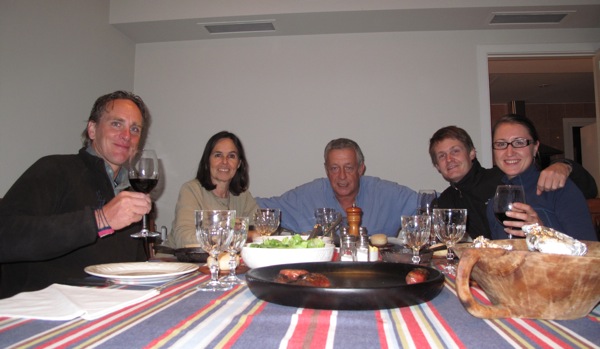 We lingered around the table finishing the wine. It was a bittersweet evening for us, our final evening enjoying the company of Fernando and Adela. Since we had an overnight flight tomorrow we were going to sleep in in the morning, so we said our goodbyes tonight to our hosts and friends. They had been so generous and kind to us, treating us like family, and Inna and I would really miss them.
Thank you again Fernando and Adela! Hopefully we can meet up for ride in the near future.