Thursday, May 14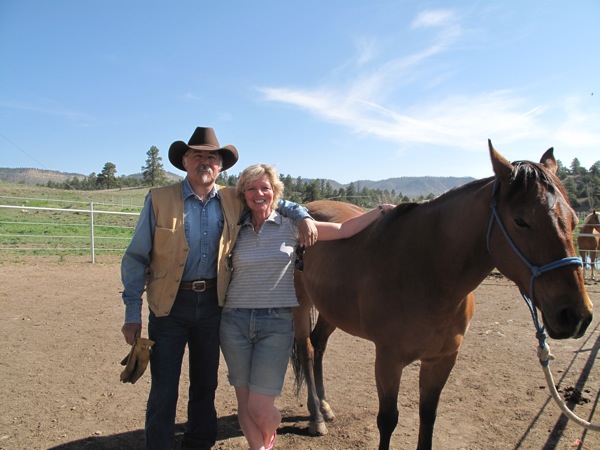 We fixed ourselves a simple breakfast and leisurely packed the bikes. It was another perfect day so we knew we had good riding ahead.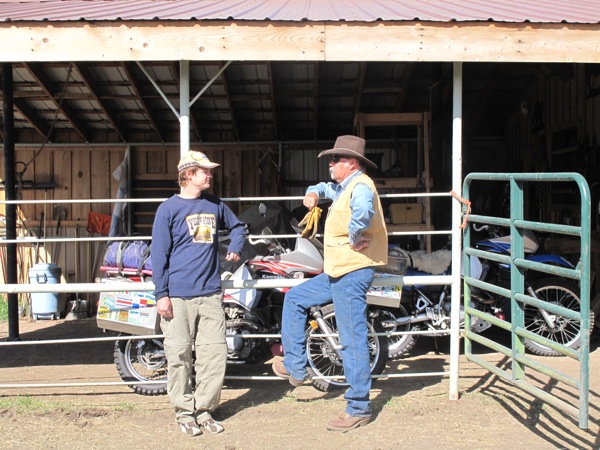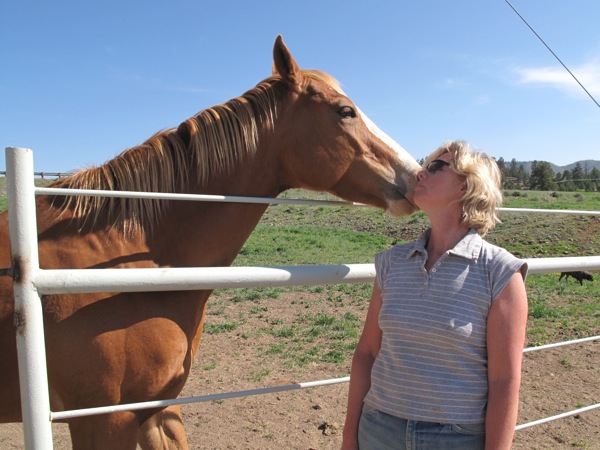 Bill was out front doing chores while we packed. Once we were reasonably packed, I chatted with Bill as he did some leather work in his shop. Once Bill had had an accident shoeing a horse and had broken his pelvis. While he'd been unable to cowboy, he'd learned to work and repair leather, which eventually led to him having a saddle repair shop, Wild Bill's Trading Post.
Check out his cowboy poetry.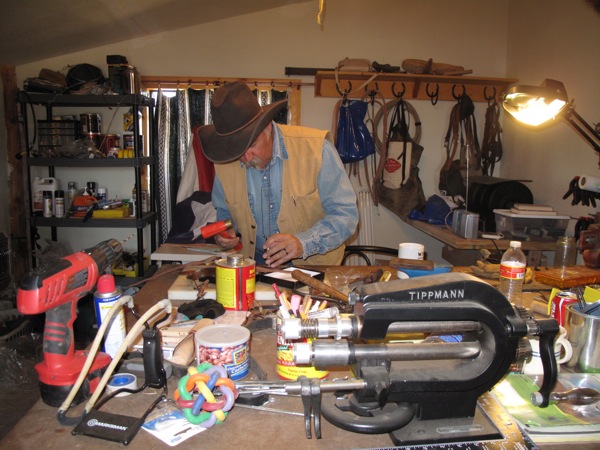 Bill is just full of great stories. Inna noted that it sounded like he had a 100 different lives. We just loved his company. He's the coolest cowboy you'll ever meet. His life story is so fascinating that Inna and I want to write his biography. Someday we will make it back and do some horseback riding and make a proper stay at the ranch. I can't recommend his services enough, and being a biker himself, his b & b ranch is biker friendly. It was a real pleasure and good luck for us to meet him.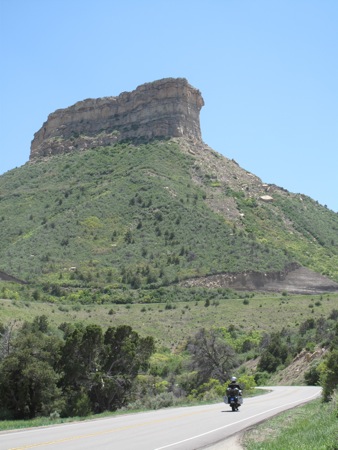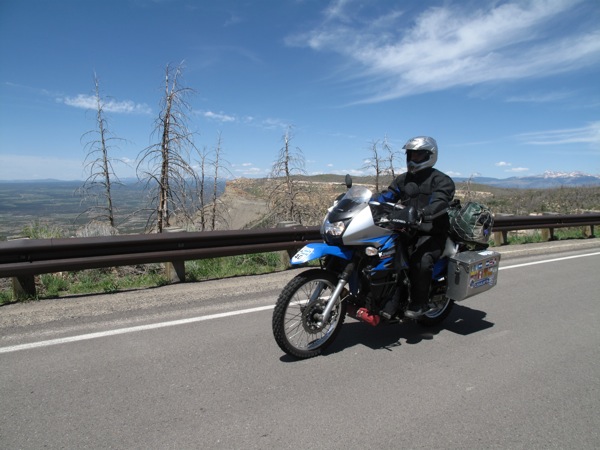 Back on the road, we rode north through Pagosa Springs, where we stopped at a patio cafe for an outdoor brunch and to pick up yet more motor oil. The ride along Hwy 160 through Durango to Mesa Verde was nice but not spectacular.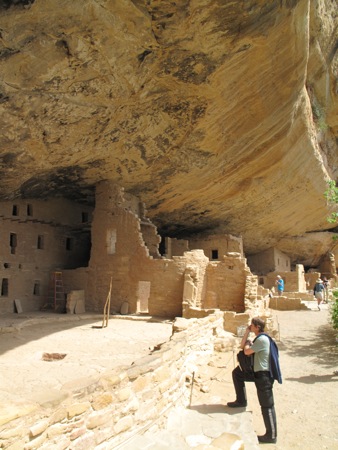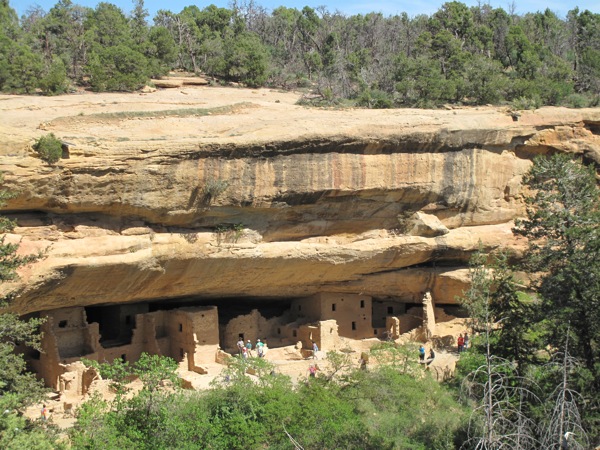 We did a mostly riding tour of Mesa Verde. I had been there before but it was Inna's first time to see the Anasazi cliff dwelling ruins. We toured one set of ruins, and then road the circuit of the park viewing the other cliff dwellings and villages. It's an amazing place and we left wondering what it would be like to live tucked under cliff overhangs. The only downside for us had been the heat. It was quite warm in our riding gear and the sun was merciless. It's difficult to do long hikes in the park for us – walking in full gear in the heat is very uncomfortable and having to secure the bags, jackets, helmets, etc every time we went for a hike was tiresome.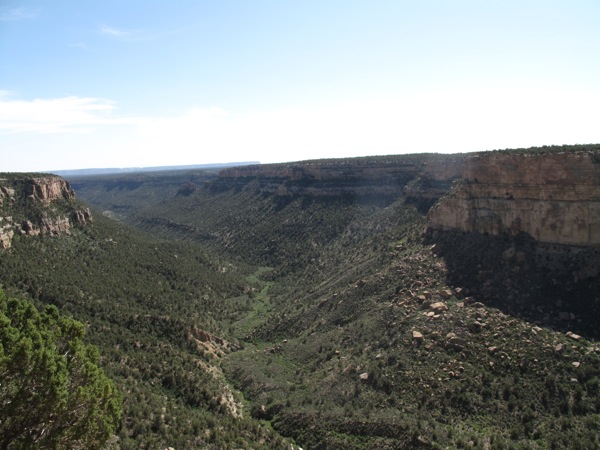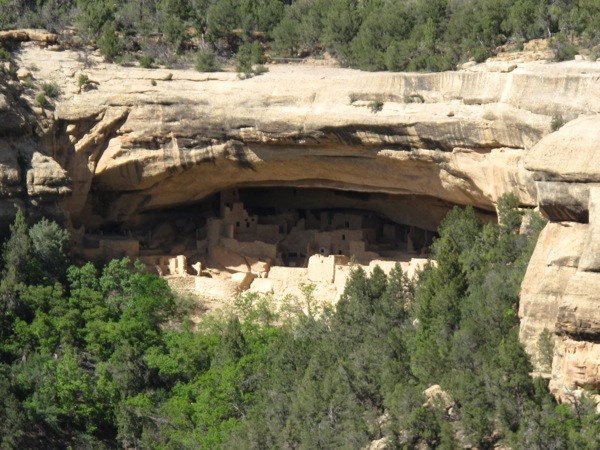 Since the campgrounds in Mesa Verde were not yet open for the season, we headed back to the town of Mencos to camp in the state park in the mountains overlooking the town. The campsite turned out to be along a man made lake with a view of the valley below. We'd been waiting to do some camping on this trip and we had a great evening cooking over the campfire before calling it a night. Finally, camping!