Tuesday, May 12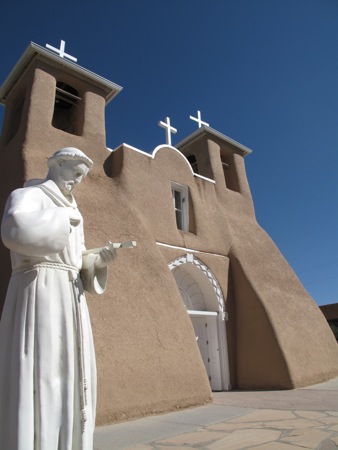 We contemplated staying in Taos for another day, but decided to press on towards Santa Fe and possibly beyond for today's ride. On the way out of town we stopped to look at the San Francisco de Asis Church, an old adobe Spanish mission that was depicted in Georgia O'Keeffe paintings and numerous Ansel Adams photographs. It was quite charming.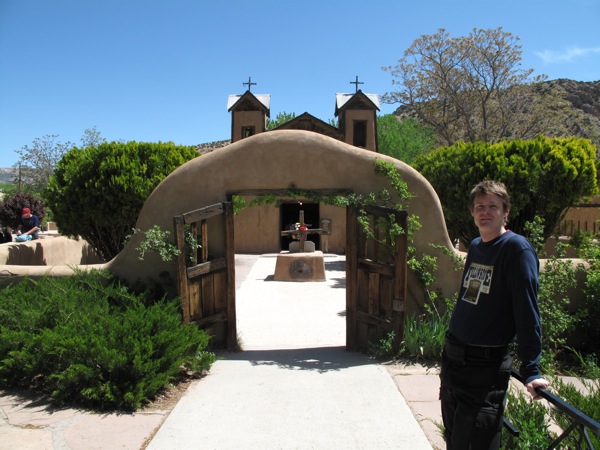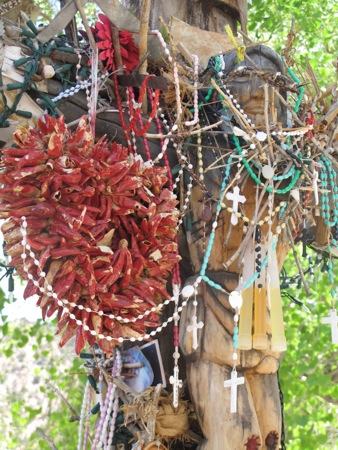 The road to Santa Fe took us through high canyon lands and the town of Chimayo. It's most prominent feature is the Catholic chapel, the Santuario de Chimayo. The chapel is believed to be a healing site (the dirt from the back room of the church is said to heal physical and spiritual ills) and is visited by over 300,000 visitors and pilgrims a year (30,000 during Holy Week!).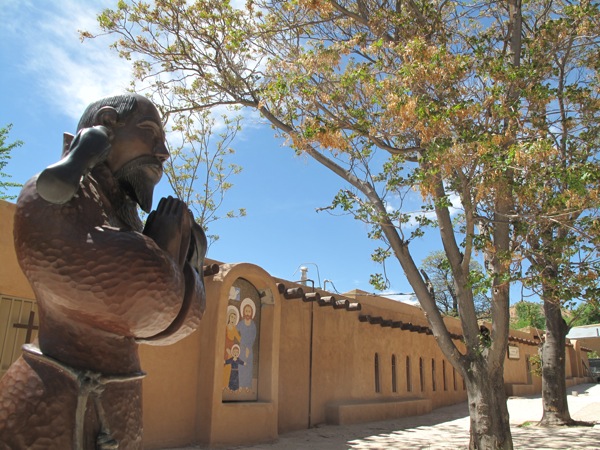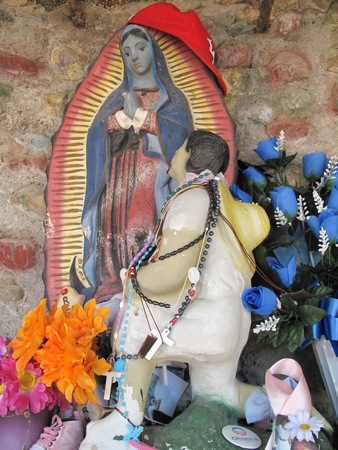 We would not have known all this if we haven't met an Indian man who started a conversation with Matt after noting stickers on our bikes, and then told us about the vortex energy in the back room that he believed was responsible for the healing miracles. He showed us the room, told us about his own miraculous experiences with the holy dirt and recommended that we collect some dirt to take with us. So I did.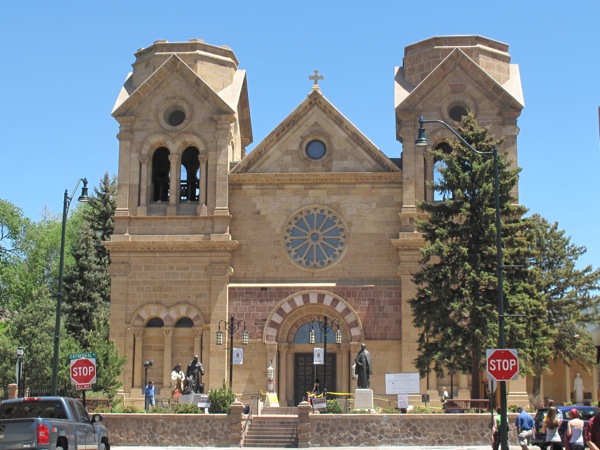 Neither of us had been to Santa Fe before. It looked like a lovely town that would be good for strolling, shopping and going out for good food. Since we are pretty much broke at the moment we didn't feel that we could afford any of these pleasures, so we decided to keep going. We did, however stop at the Georgia O'Keeffe museum. It was a big disappointment. We found her work and subject matter amateur, and wondered why she had such huge acclaim as an artist. We were not fans of her work.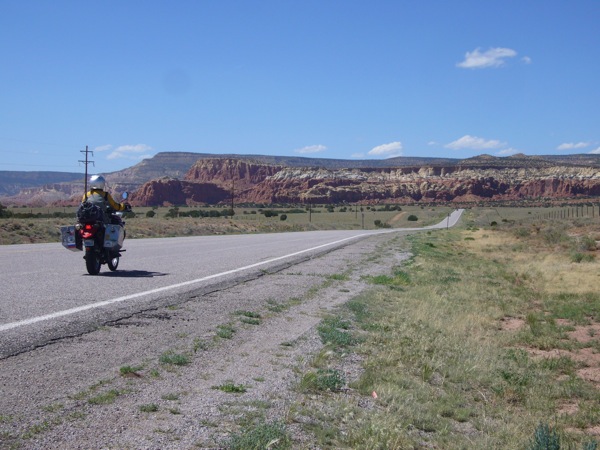 We reached the town of Chama in the vicinities of which we planned on finding a campsite for the night. We stopped at a grocery store and were approached by a cowboy hat wearing man who introduced himself as Bill. Our ADV stickers attracted his attention, and he asked Matt for his ADV user name. It turned out that Bill was following our thread on ADV. What were the chances of that? He also owned a KLR, so we struck up a conversation about our travels.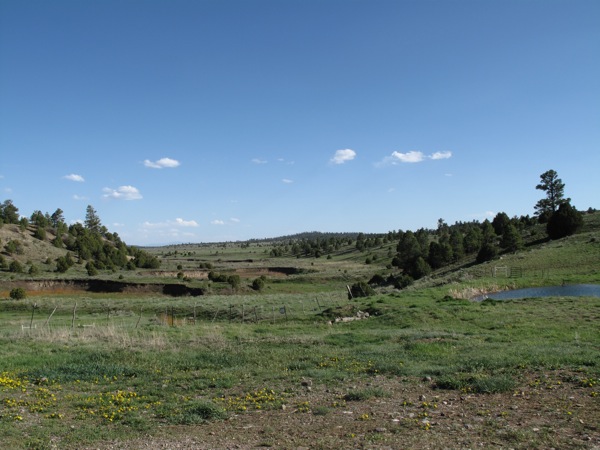 We told him we were looking for a campsite and he invited us to stay at his ranch which also serves as Bed and Breakfast and a Horse Riding camp (a dude ranch). We would be the only guests there for the night. It had a kitchen, a separate bedroom, wi-fi, cable TV, dogs, horses… did we have to be persuaded?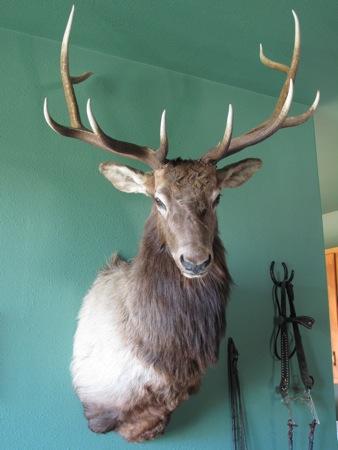 We arrived at the ranch and Bill left us alone to settle in. The accommodations and the setting were amazing. Two impressive trophy elk heads were hanging in the dining room, and in our room, a "taxodermy'ed" bob cat looked lifelike climbing down a tree branch as it probably (I've never seen one in real life) does in the wild.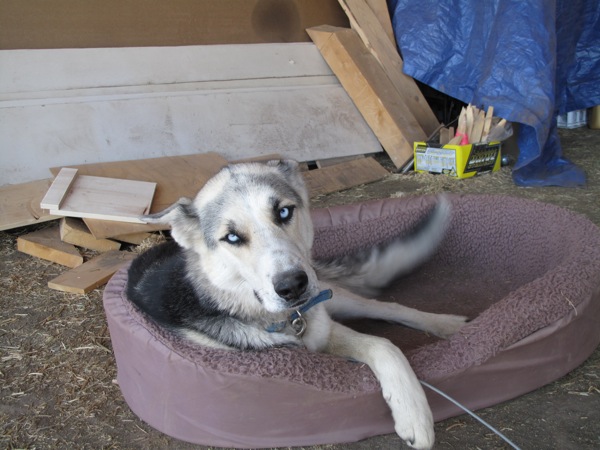 We cooked dinner and afterwards had a chat with Bill about bikes, travels, cowboy living, and all things in between. We met his wife Carola, who is German and helps him run the ranch, gives horseback riding lessons and keeps things under control. The bits of stories we got to hear about Bill's life and work were absolutely fascinating. I have never met a real cowboy in my life, and this was a real treat to be a guest of one.
Once again we were humbled by the strangers' hospitality. We felt lucky and thankful for the opportunity to enter the lives of these people and hear their stories. It's amazing how motorcycling (and the ADV stickers) can open so many doors for you.