Wednesday, April 22
The plane ride was a typical international plane ride – boring and uncomfortable. Fortunately we managed to sleep through the entire flight, skipping both meals. When the plane touched down in Washington D.C.'s Dulles airport we were ready to get off the plane. I think because neither of us had eaten we weren't feeling too great.
[qt:/southernexposure/wp-content/uploads/2009/05/mvi_7100.mov 320 240]
Filling out the customs form was fun – "What countries have you visited since you left?". They need to leave more space on those forms! I had left the country with a fresh passport and now only had a few pages left. The immigration agent thought me suspicious and flagged me for extra harassment. When I picked up my bags, I was told to go wait in the special room while Inna got a pass through.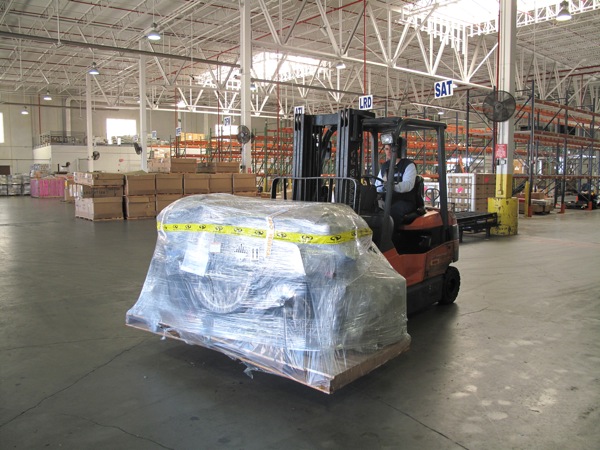 After waiting for someone to show up, I was interviewed by the customs agent. I was sure I would get grief for the three sheepskins we had brought back to use on our and my father's bikes, but they were more interested in why I had been to so many countries. It went fairly quickly as I have a pretty good story, and to my surprise they showed no interest in my bags. I had to open them all, but the agent had no interest in digging into the tightly packed junk and clothes and let me go.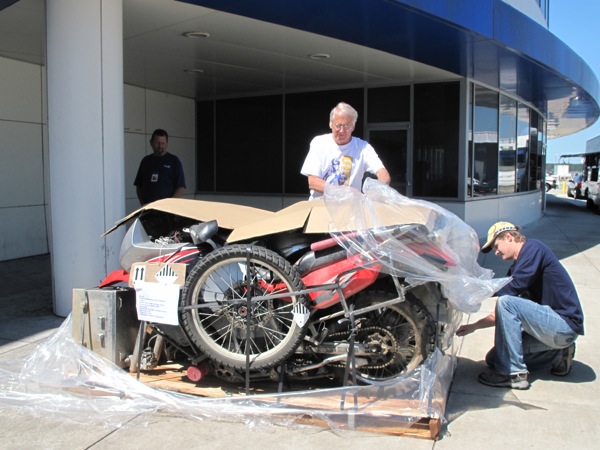 I met Inna upstairs and we caught our flight to Houston. It's sad we had to fly to Dulles rather than direct. The bikes actually had a better flight than we did, going direct. The cost for a direct plane ticket for just one of us was the same cost as shipping 500 kg of motorcycles. Weak.
The flight to Houston was another chance to sleep and we landed in the bright sunny 70 degree spring time. Farewell fall and winter, I'm happy to have a year without a winter. My dad picked us up outside and it was really nice to see him again after all these months on the road.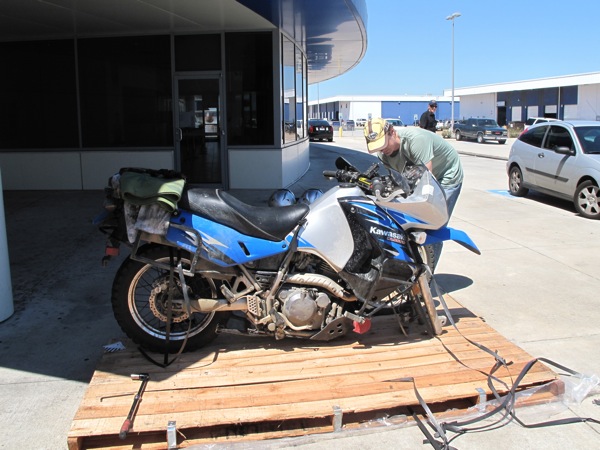 Since the bikes had shipped back 5 days earlier, today was the last day they would be held without charging a storage fee from Continental. This meant we went straight from the passenger terminal to the cargo terminal. We presented our shipping papers to the agents at the terminal, and they told us we would have to clear U.S. Customs first, which was located in another building on the other side of the airport.
We drove over there, hoping for the best. One of the agents had said any shipment with a value over $2000 required a customs broker. It turns out the U.S. Customs was one of the easiest of the entire trip. I presented our titles and registrations and they were satisfied. They didn't even go to the cargo terminal and inspect the VIN numbers or anything, trusting that the Argentine customs had done the job on their end. We were stamped and out of there in no time.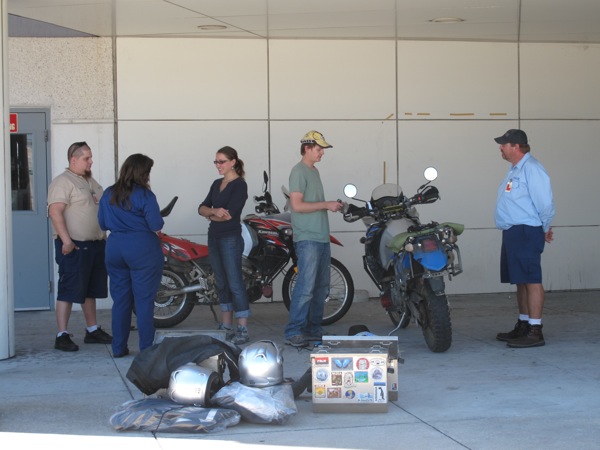 Back at the Continental cargo terminal, we presented our stamped papers and were all clear. We went outside to the warehouse, talked to the men working inside and they brought the bikes over on a forklift. I got to work unwrapping the bikes and everything had arrived in good condition. It took us about 45 minutes to get the front wheels back on, the batteries reconnected, and all the other details taken care of. The workers at the cargo terminal were very helpful and curious about our adventures.
With everything back together and all the luggage tucked in the back of the car, we were back on the road in the United States. It was really disorienting to me in some ways. We had put so much work in riding south for the last six months, and in a mere 13 hours we were back in the United States, all that riding so easily undone by modern aviation. The ride home to my parents' house was uneventful with no broken chains.
[qt:/southernexposure/wp-content/uploads/2009/05/mvi_7111.mov 320 240]
We unpacked, which for us is like a bomb exploding in the room. My mother came home and welcomed us back and we spent a nice afternoon in the house. The cat, Cleo, was particularly enthralled with our sheepskins. After attacking them and making sure they were dead, she settled in for a good nap. It was good to be home amongst family.