Saturday, May 23
We were up early today, eager to be home. Chuck had to go into work that morning for a meeting, so we missed saying a proper goodbye to him, but we had a nice breakfast with Dee.
We rode west along the interstate to Yakima, where we got back on Hwy 12, heading towards Mt. Rainier. It was such a strange feeling to be riding through such familiar territory. It simultaneously felt like we hadn't been here in eons and that we had just left yesterday. Rainier's passes had just opened, and the mountains were covered in snow.
We passed so many riders out for Memorial Day weekend rides. Riding season was just beginning here but our riding season had never ended. We looked a bit out of place with our fully loaded dirty KLRs amidst all the sport bikes and cruisers.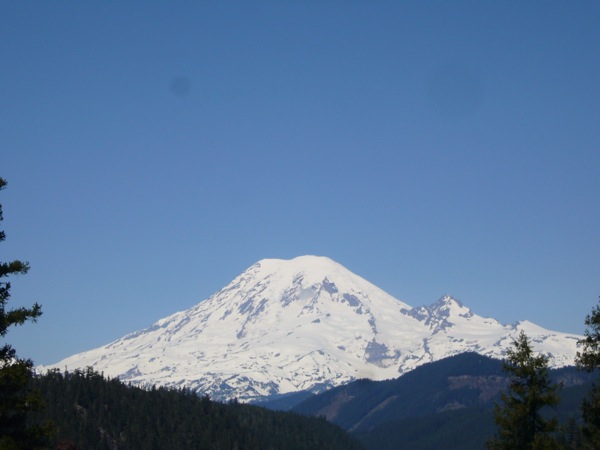 We hardly stopped at all because we were on a mission to get back home. Seattle area traffic was light, and before we knew it, we were pulling into our driveway.
After 196 days on the road and 23,000 miles we were home! It was an indescribable moment. As happy as we were to see our house and Seattle, we were sad that this great adventure had come to an end. We were tremendously proud of what we had accomplished together and we'd already started talking about our next trip 🙂
Home!